Today we will share recipes and how to cook Gluten-Free Scallion Pancake , very suitable for special dishes of family and friends.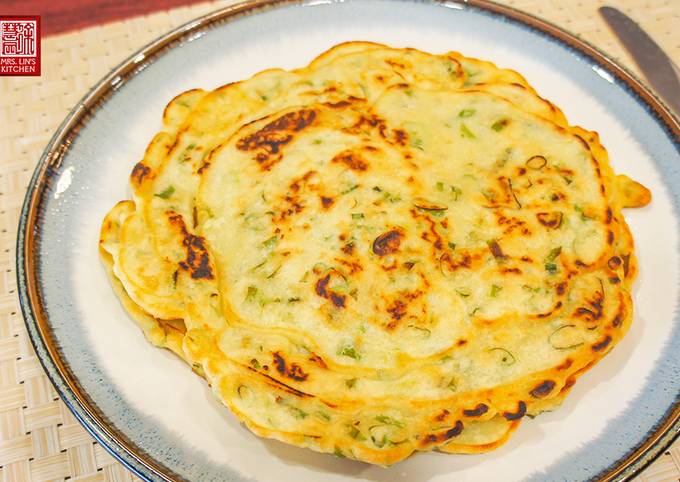 Gluten-Free Scallion Pancake

Gluten-free scallion pancake is inspired by the Korean seafood pancake. It's easy to make and only requires 4 ingredients.
Scallion or green onion pancake is a Chinese savory often served as breakfast at food stalls in Taiwan. Unlike western pancake, scallion pancake or Chong Yo Bing in Mandarin is traditionally made of dough and folded several times with sliced green onion and oil then pan-fried. The highlight of this slightly salted pancake is its crispy edge with a chewy and flaky texture.
For someone who has a gluten allergy like me, a regular version is not an option so I have decided to create something that has the closest taste and texture to my favorite food since I was a child. This recipe was inspired by the Korean seafood pancake, Haemul Pajeon. Since this pancake is made from grounded mung bean and not flour, achieving that chewy and flaky texture can be trickier. The key is to spread out the mung bean paste thinly and add as much sliced green onion as possible. In this recipe, I added a moderate amount of salt. If you prefer it saltier, please sprinkle some more before serving.
Video Instruction: youtu.be/JflDzBeQa10
Ingredients Gluten-Free Scallion Pancake
Before starting to cook, prepare the ingredients first. Here are the ingredients that must be prepared to make Gluten-Free Scallion Pancake :
1 cup peeled split mung bean

1/4 tsp salt

Vegetable oil

Scallion (or green onion)
Steps Gluten-Free Scallion Pancake
After all the ingredients are ready, it's time to start cooking. Here are the steps for cooking Gluten-Free Scallion Pancake:
Soak 1 cup of peeled split mung bean in water for 4 – 5 hours or overnight. Make sure the water covers the mung bean completely. After soaking, drain out all the excess water

Transfer the soaked mung bean into a blender with 2/3 cup of water. Blend until the mixture is smooth.

Thinly slice the scallion or green onion.

In a clean mixing bowl, pour in the mung bean mixture, add 1 to 1 ½ cup of sliced green onion, 1/4 teaspoon of salt. Mix everything together. Make sure the scallion is evenly distributed.

Coat a non-sticking pan evenly with 1 tbsp of oil. Pour in about 1 cup of mung bean-green onion mixture. With a spatula, thinly spread out the mixture. You want the pancake to be about ¼" thick

Fry each side for about 1 minute on medium-high heat. But make sure to adjust the flame according to your stove. After one side is done, flip and continue to fry the other side until the pancake becomes golden brown.

Serve warm and sprinkle some salt on the top of needed.
That's how to make Gluten-Free Scallion Pancake 
Come on, try it now and don't forget to share it 🙂 .. Thank you